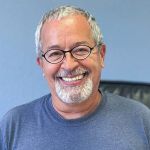 INSTITUTE:

UNU-BIOLAC

OFFICE:

IDEA, Edificio Bolivar, Piso 3, Carretera Nacional Hoyo del Puerta, Baruta 1080, Estado Miranda, Venezuela

E-MAIL:

fermin@unu.edu

NATIONALITY:

Venezuela
Education
Post-doc Pacific Basin Agricultural Research Center (PIBARC), USDA - University of Hawaii, Helo, HI, USA
Post-doc New York State Agricultural Experiment Station - Cornell University, Ithaca, NY, USA
PhD in Plant Pathology - Cornell University, Ithaca, NY, USA
MS in Fundamental Medical Sciences (Molecular Biology) - Universidad de Los Andes (ULA), Mérida, Venezuela
Licenciate in Biology, Faculty of Science - Universidad de Los Andes (ULA), Mérida, Venezuela
Biographical Statement
Gustavo Fermin was born in Caracas (Venezuela) in the early 1960s, moving to Mérida (Venezuela) in his youth to study biology at Universidad de Los Andes (ULA). After graduating with an MS in Molecular Biology from the same institution, he began his doctoral studies at Cornell University in Ithaca and Geneva, New York. His research in New York and later in Hawaii focused on creating and molecularly characterising transgenic plants resistant to one or several viruses simultaneously thanks to engineered native or synthetic transgenes.
Back in his country, he resumed his academic activities at ULA, overseeing undergraduate or graduate courses in Genetics, Genetic Engineering, Molecular Ecology and Bioethics, among others. In addition, he has been a mentor to many undergraduate and graduate students with whom he has travelled throughout the country as part of his various research projects on biodiversity aimed at studying viruses, bacteria, fungi, chromists, plants and animals of ecological, health, conservation, and biotechnological importance.
An important part of his work has dealt with the education and training of young students in Latin America (diverse universities in Venezuela, El Salvador, Colombia and Jamaica), and more recently in Africa where he taught at the African-American University of Central Africa (Equatorial Guinea).
In January 2023, Dr Gustavo Fermin joined UNU-BIOLAC as its new Programme Coordinator, aiming to continue the promotion of Biotechnology in Latin America and the Caribbean region as a goal and tool for the fulfilment of the United Nations mandate.